We currently have 7 solar hot water systems owned by third parties, with monthly billing for the energy used.  To see the data, we developed a web hosting service in conjunction with a data system that controls the collector pump and energy meter, monitors all the data with calculations, sums, and averages, and reports the […]
"Dr. Ben, I like that you maintain the mindset that drainback is the best method for solar thermal systems.  What are your thought's on using pre-insulated stainless steal corrugated pipe in drainback systems?  Does the corrugation create too much resistance and strain on the pump?  I know there is an issue of ensuring there is […]
HERE is a white paper on cross-connection hazards of the two main types of solar thermal systems.  In my research on the subject, I found the two main solar system types fit the two main categories for conventional cross connections.   The paper shows they are the same, with the same solutions. This is especially important for […]

The answer is more philosophical than technical. We think the only honest thing to do is measure the energy that actually goes into the load. When we bill people for the energy used, they expect to pay for the energy that went into their system…

Sizing a load side heat exchanger for a solar tank can be difficult, because all the data presented by commercial heat exchanger manufacturers assume the tank is being heated by hot water or steam from a boiler…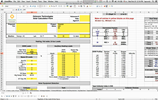 What's the best way to analyze a commercial solar water heating project for optimal energy output? It's not easy. Several decades ago, a couple of professors from the University of Wisconsin came up with something called the F-Chart methodology. I took their calculations and put them into a spreadsheet of my own. After many tweaks and slight improvements I finally ended up with a program that is both easy to use and remarkably accurate. In this video, I show how to use my F-Chart to determine the appropriate collector area, storage volume, and energy output for a sample project. Enjoy!

In the early 1980s, I had the good fortune to work with Omni Builders on a new seventy home neighborhood in Jacksonville, NC. Omni decided to make a solar water heating system standard equipment on every house in the neighborhood. Homeowners responded positively!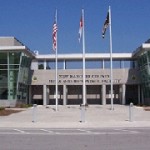 Ending 2012 on a very good note, the solar thermal system for the New Hanover County Jail was completed and put into operation! This system was designed and installed by Holocene. It's also owned and operated by Holocene. The upfront cost to New Hanover County was $0. Instead, the county simply pays for the hot water the jail consumes.

Happy Holidays to our readers! If you were unable to tune in to our most recent webinar, we've posted a recording here. What did we cover? A lot! But primarily we discussed a tool called the Engineering Data Form. This a spreadsheet that we use to help properly size the major components of a solar thermal fluid handling system…