The mechanical room at the STEM Academy Saratoga Campus is proof that there are learning opportunities everywhere. A location in the building that most people walked by without a second thought was harboring some pretty interesting scientific processes the whole time, said teachers at the school. Renovations to the room have transformed it into a thermal energy laboratory with three systems on display; a water tank heated by solar energy, a gas-powered hot water heater, and a steam-powered heating system.

Most people don't know that there are several different kinds of drainback solar water heating systems. They look very much like glycol systems with the important difference that they contain no glycol, expansion tanks, check valves, or any other components required for dealing with pressurization. The water drains out of the collectors when the pump stops…

In the recent November edition of our Question & Answer webinar we reviewed some more of the fundamental principals that support successful solar thermal design. Specifically, we continued our ongoing comparison of the pluses and minuses of both pressurized and non-pressurized solar water heating systems.

I had the opportunity to give another solar thermal seminar recently. This time I presented to the Society of American Military Engineers in Panama City, FL on October 14th. A video of the presentation is available below. If you'd like to follow along using PowerPoint, the slides are available here.

I was recently given the opportunity to be a presenter on a webinar for the United States Environmental Protection Agency. They are conducting a series of educational webinars on the topic of Renewable Heating & Cooling. This installment was the second of two so far and was focused on designing and installing solar hot water systems for multifamily and low-income public housing.

I spent some time last week in Northern California visiting some fine solar thermal companies and attending the California Solar Initiative Conference at Pacific Gas and Electric Company's Energy Center in San Francisco. One of the presenters was John Grose from JTG Muir who did a great job of encouraging group participation. John has been working in the industry for […]

"My question is how to determine the correct pressure for the pre-charged expansion tank, owing to the fact that the system will not be subjected to the mains cold water pressure which will be approx 80 PSI." – Paul

I generally don't recommend using PEX in the collector loop, especially in the return line coming back from the collectors into the tank. PEX tubing, will deform under steam and eventually fail over time. We don't have to worry about this with copper.
I am still examining the benefits of a variable speed collector pump and your data lends credence to the idea. However, our system has some characteristics that make the use of variable speed pumps more difficult. We put all water cooled collector pumps inside our thermal cavity, where the heat from the pump goes into the tank water. We cannot put a variable speed pump there because…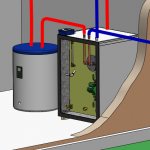 The efficiency of a solar thermal system increases as the temperature of the water flowing through the collectors decreases. This is just basic physics. We don't want the solar water to be any warmer than necessary at any given time. Systems that are designed and operated with this principle in mind will generate energy more efficiently…