You can catch the replay right here!
Double wall heat exchangers, variable speed pumps, proper piping slope, and lots of coughing!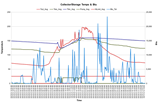 I thought I would give you a preview of the solar thermal monitoring program I've been working on lately. To the right is a screen shot of one day's data…

We went back out to visit our solar hot water system at Duke University this week. One of the major objectives of this trip was to swap out the original 2″ Btu meter with a 1.5″ Btu meter. This is because the larger meter was not as sensitive as the smaller one…

You can catch the replay right here!
Galvanic corrosion, solar radiant floors, unglazed collectors, and much more…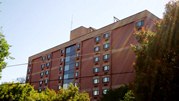 We were asked by the Raleigh Housing Authority to visit the Carriage House, an 8-story low-income apartment building with 100 senior residents and a solar hot water system on its roof.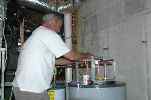 The solar storage tank is probably the most critical component of any solar hot water system. Thus, it should be protected from rain and prolonged freezing temperatures in case of…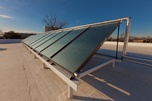 Congratulations to DHIC, winner of the 2012 Pioneering Award in recognition of the recently installed solar hot water system on the roof of the Murphey School apartment building in Raleigh, NC!

As with any project, a few minutes of planning will save hours of fixing. Start your solar hot water system installation by measuring the angle of the collector mounting surface from south with a compass…

I went by The Healing Place of Wake County to check on one of our solar hot water systems. The Btu meter showed that 203,000 gallons of water had flowed through the heat exchangers, creating 22 million Btu of energy for the facility's domestic hot water load…

We have the classical conflict between manufacturers and contractors. Contractors don't really care where the product comes from. The want the cheapest product so they can sell the most. Manufacturers want good prices for their products so they can stay in business.