California, Here I Come!
I spent some time last week in Northern California visiting some fine solar thermal companies and attending the California Solar Initiative Conference at Pacific Gas and Electric Company's Energy Center in San Francisco.
One of the presenters was John Grose from JTG Muir who did a great job of encouraging group participation. John has been working in the industry for over thirty years and has recently been asked to evaluate Lawrence Berkeley Labs for solar heating.
In the picture to the right, John is discussing the benefits of a properly designed  drain back system with some of the local solar contractors. Non-pressurized systems are in the small minority in California, unfortunately. Most installers are much more familiar with pressurized glycol systems. This may be largely due to the fact that manufacturers like Heliodyne, originating from Germany, have spent time and resources educating solar installers about pressurized systems.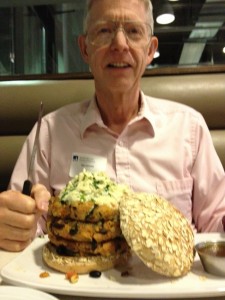 So part of my mission was to help spread the good word about drain back out into the California marketplace. Another part of my mission was to find the world's largest veggie burger, which I figured would be obviously located somewhere in California. You'll be happy to know that I accomplished that mission, too! Later that night in a restaurant in Berkley I ordered a hefty ONE POUND veggie burger… believe it or not, I ate 95% of it!
Dr. Ben