Evaluating Solar Hot Water Panels on the Carriage House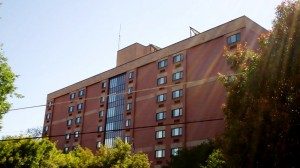 We were recently asked by the Raleigh Housing Authority to come visit the Carriage House, an 8-story low-income apartment building with about 100 senior residents and a large solar hot water system on its roof. Unfortunately, this pressurized glycol solar system is not currently performing and probably has not been reliably producing energy for quite some time. The good news is that many of the critical components of the system are still in place and possibly reusable including the racking, the piping, and maybe even the solar hot water panels.
During our diagnostics, we discovered several initial design and installation flaws. In the video below, I address many of these, such as:
use of rubber pipe insulation
short-circuited pipe routing
improperly balanced array configuration
inadequate spacing between rows to avoid shading
It's really questionable as to whether or not this system ever functioned effectively. The sad reality is that the entire country is littered with systems just like this. It serves to underscore our mission here at SolarHotWater-Systems.com which is "to make publicly available reliable information on best practices, installation techniques, and design strategies regarding solar water heating systems to architects, engineers, installers, and owners."
It also emphasizes the importance of properly monitoring the performance of solar water heating systems in today's current economic environment. System owners simply can't afford to invest in a non-performing asset. Help us put an end to poor solar thermal design!
Share your thoughts in the comment section below!
Dr. Ben