EPA Solar Thermal Webinar Replay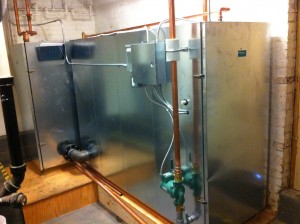 I was recently given the opportunity to be a presenter on a webinar for the United States Environmental Protection Agency. They are conducting a series of educational webinars on the topic of Renewable Heating & Cooling. This installment was the second of two so far and was focused on designing and installing solar hot water systems for multifamily and low-income public housing.
As followers of my blog are probably aware, a perfect example of this is the system we installed last year in Raleigh, NC for DHIC. To see how the Murphey School Apartments solar system is performing, click here. We also recently provided a 750 gallon Fluid Handling System (above) to our friends at S+H Construction for their solar thermal project at Pondview Apartments in Jamaica Plain, MA.
Enjoy the video replay!
Dr. Ben