Load Side Solar Heat Exchanger Sizing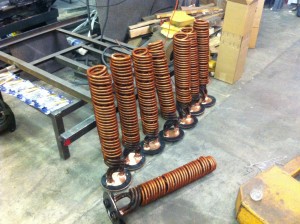 Sizing a load side heat exchanger for a solar tank can be difficult, because all the data presented by commercial heat exchanger manufacturers assume heat exchangers are used to heat the tank, not take heat out of the tank. There is almost no data on using a heat exchanger to remove energy from a hot tank. Neither Bell and Gossett nor TACO could supply such a calculation. The computer equations became indeterminate. An external load side exchanger would have the same difficulty of definition.
Therefore, a different approach must be used, and large safety factors applied.  For example, an 1800 gallon tank can store approximately 1.2 million Btu over the range 60-140F.  If this energy is removed during a 4 hour duty cycle, say two hours in the morning and two in the evening, then the energy transfer rate must be 1.2 millionBtu/4 = 300 kBtu/hr.  In addition, the tank temperature is falling continuously, in the case where there is no solar gain during the use cycle.  This is not the normal case if the load occurs during the solar day, but will be ignored in this example.
In the tank heater mode, a B&G TCW 1084 exchanger (100 ft2 area) is rated to heat 2490 gallons per hour of water from 40-140F, using 180F inlet water (140F delta T). That is equivalent to 2.07 MBtu/hr, or 8 MBtu over a 4 hour duty cycle. If we assume thermodynamic reciprosity in heat transfer from heating the tank to removing heat from the tank, and assume that the maximum output conditions are a tank temperature of 140F with cold water temp of 40F (100F delta T), then the output heat transfer rate would be a factor of 100/140 = 0.71 less that the stated rate above. That gives us a maximum heat transfer out of 0.71 x 2 MBtu = 1.43 MBtu/hr, which is 4.8 times the expected heat transfer.  We have ignored the fact that the system may gain over 1 MBtu/day from solar energy on any given day.  This calculation presumes that heat removal occurs at 140F tank temp.  Since the key characteristic of a solar system is that the tank temperature is never constant and can go from max to min in a short time, we have to presume a much lower average temperature.  So, the 4.8 times safety factor is actually a sliding scale depending on tank temperature.
Since the exchanger capacity is directly tied to the maximum energy that can be stored in the tank, which is 1.2 million Btu, the exchanger must be sized not only for capacity, but it must be able to carry the maximum flow rate through the cold water system without creating an unacceptable pressure drop.  We can now make a more rational specification for the exchanger.
1. The exchanger must have at least 0.04ft2 of area per gallon of water in the tank.  This should be considered a minimum.  A real world exchanger can have more area than specified.  If the exchanger is too small, energy will be left in the tank, raising the average tank temperature and reducing the collector efficiency.
2. The exchanger must have an acceptable pressure drop for the expected max flow rate.  This requirement frequently results in an "oversized" exchanger.  For example, a 1000 gallon tank may require a 40ft2 exchanger, but if the cold water line going through the exchanger is 3 inches in diameter, then an available exchanger with 3 inch ports may have 100ft2 or more.
This specification has been proven in over 2000 solar systems dating back to 1978!
Dr. Ben