How To Avoid Over-sizing A Solar Thermal System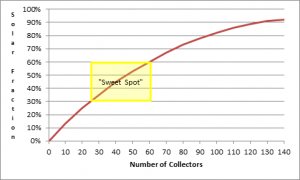 Properly sizing a commercial solar hot water system requires a simple understanding of a basic universal principal: the Law of Diminishing Returns. Let me explain. The term "Solar Fraction" is defined as the ratio between the solar energy (Es) output of a system over the total energy (Et) demand of a building served by that system.
SF = Es/Et
For example, if a building uses 1000 gallons of hot water per day and a solar hot water system supplies 500 gallons of that, the Solar Fraction equals 50% for that day. Since available solar energy is a variable throughout the year due to weather, achieving an annual Solar Fraction of 100% is not possible. So what is the optimal percentage to target?
This graph shows that as the number of collectors in a system increases, the Solar Fraction does too… but not proportionately. Going from 20 collectors to 30 collectors increases the Solar Fraction from 25% to 35%. But increasing the number of collectors from 80 to 90 only increases the Solar Fraction by 5%, and going from 130 to 140 gives an increase of only 1%. This is a classic example of the Law of Diminishing Returns!
Another consideration is that as the number of collectors goes up, the output per collector steadily decreases. Each additional collector in the system causes the other collectors to perform incrementally less. Since the cost of each collector is a relatively fixed number, it is important to avoid spending more money while having the performance per collector drop.
In any diminishing return situation, the question is where to stop. Over thirty years of in-field research has determined that the "sweet spot" for most systems is a Solar Fraction somewhere between 30% and 60%. Systems that are sized beyond this sweet spot end up throwing away money. The initial cost of the equipment increases but the energy output per unit drops off.
I'm looking forward to reading your feedback!
Dr. Ben