Is PEX OK for a Drainback Solar Water Heater?
"Dr. Ben, what are your thoughts on PEX tubing for getting water up to and back from collectors in a drainback system?" – Farid Dibachi, JLM Energy, Inc.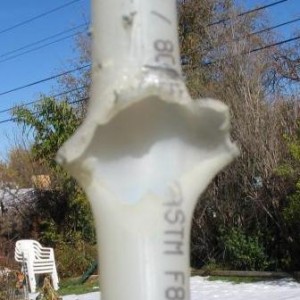 Hi, Farid. Thanks for your question. I generally don't recommend using PEX in the collector loop of a non-pressurized solar water heater, especially in the return line coming back from the collectors into the tank. Here's why…
Our controller shuts off the collector pump whenever the tank temperature reaches 160oF.  The control logic has a 15oF "dead band" which means the tank temperature must fall to 145oF before the pump can turn back on.
On a sunny day, empty solar collectors may soar up past 220oF during high limit shutdown. When the tank temperature drops below the dead band and the pump turns on again, we are sending 145oF water up the supply line and through 220oF collectors, creating steam. This steam goes down return line, into the tank, and out the immersion vent.
If that return line is PEX tubing, the stress caused by the steam will lead to its failure over time. At first it will sag and distort but eventually it will fail completely. We don't have to worry about this with copper.
So I've found that the initial savings gained by using PEX tubing over copper do not offset the added cost of a system that will fail prematurely.
I hope this helps!
Dr. Ben