"Solar Heating" is Now Getting Press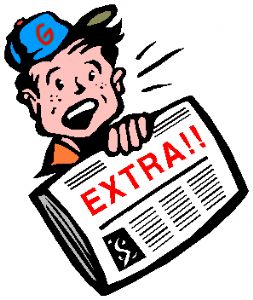 Solar thermal receives no press?  We've just changed that.
Eneref Institute recently published over a dozen stories in various magazines. And still more are on the way (stories listed below). Our 2012 strategy covered multiple industries – restaurants, hospitals, resorts etc. – to determine which markets are most effective.
Now we need you to do your part. Send our stories to potential end users.
For example, everyone has a favorite restaurant. Write to them now: "I have a great solar heating story you should read." Whatever system works for you, use it: phone, email, post, txt or tweet – you can multiply our efforts.
Eneref Institute is a research and advocacy organization – not a marketing firm. Our funds for the "Solar Thermal Advantage" initiative are used to examine case studies and offer convincingly written stories to the press – for free. That's why we need your help promoting your success stories.
The industry now funds 25% of our "Solar Thermal Advantage" initiative, and Eneref Institute itself funds the other 75%. We can't succeed without everyone pitching in. Use our success stories to get the word out to potential customers. Send an Eneref story to a facility owner near you.
Download a pdf of any case study on www.eneref.org. And help us improve specific stories with suggestions on our new discussion site: www.sta.eneref.org.
Here's our recently published stories:
Entire Industry Benefits from Eneref's "Solar Heating" initiative.
This month, an Eneref Institute story about a Caleffi prison installation was featured in Correctional Facility magazine, which targets nearly all of the nation's prisons (http://tinyurl.com/c83ep7s). For Food Manufacturing magazine, Eneref has published a story featuring an AET installation in a North Carolina brewery (http://tinyurl.com/d835vv6). Specifically targeting the health care industry, Eneref published an article in the respected Health Facilities Management magazine (http://tinyurl.com/7ecjhho) that featured a SunEarth and JCI hospital project. Skyline Innovations was featured in Eneref's recent article in Environmental Design + Construction magazine (http://tinyurl.com/83mu7vp) in which a commercial Laundromat employed solar heating. A similar Eneref story was published in Cleaning Green magazine, about a Skyline installation (http://tinyurl.com/6pj7n9l).
As part of an on-going effort to attract more California Solar Initiative projects, Eneref featured an article in the May issue of Reeves Journal about the public relations benefits of solar heating, by highlighting successful projects of Skyline, AET and Caleffi (http://tinyurl.com/7cufo42). Also in Reeves were the results of Eneref's report on how the expected rise in natural gas prices next year should boost solar heating sales (http://tinyurl.com/6m48tn2). And to encourage more contractor attendance for tradeshow exhibitors, Eneref published an article in Reeves promoting the solar heating and cooling conferences in San Francisco and Milwaukee (http://tinyurl.com/d4y69dj). The March issue of Reeves published Eneref's examination on the use of solar process heating in breweries, featuring systems by Heliodyne, SolarSkies and AET (http://tinyurl.com/6skekoe).
Future Eneref Institute articles are already researched, written and scheduled for publication. Resort + Recreation magazine is scheduled to publish a Caleffi story about a Utah ski resort using solar heating (http://tinyurl.com/c56zqxu). Commercial Construction & Renovation magazine will also publish an Eneref story about a Caleffi project. Also for AET, Eneref Institute is featuring a story in Restaurant Hospitality magazine about a solar heating installation in a popular pizza restaurant in Ashville, NC (http://tinyurl.com/d33o83b).
And currently, two new articles are in the works: For SunMaxx, Eneref is developing a story for Defence Communities magazine and other military publications about their Fort Hood installation. And a SolarUS hospital installation along with a SunEarth hospital project is now being written for Medical Construction & Design magazine (http://tinyurl.com/c5p5kn7).
As a recognized third-party research organization, Eneref Institute vets each case study – interviewing stakeholders throughout the sales channel. Eneref welcomes successful solar heating case studies. Story ideas can be uploaded to www.casestudy.eneref.org.