And the 2012 Pioneering Award Goes to…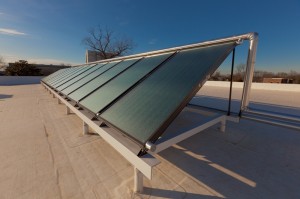 The City of Raleigh recently presented their Environmental Stewardship Awards for Earth Day 2012. Congratulations to the winner of the Pioneering Award, DHIC in partnership with Holocene, LLC! The award was in recognition of the recently installed solar hot water system on the roof of the Murphey School apartment building at 443 N. Person Street which is managed by DHIC.
This solar water heating system is comprised of twelve solar hot water panels and a 500 gallon solar thermal storage tank. The solar panels, also known as "collectors", were manufactured by Alternate Energy Technologies and measure 4 feet wide by 10 feet tall. The 500 gallon tank, referred to as the Fluid Handling System, was manufactured by Holocene Technologies just a few blocks down the road from the Murphey School.
DHIC elected to go with a non-pressurized "drain back" solar hot water system for several good reasons:
It works in any climate and will not freeze or boil.
It is most efficient because it uses plain water which has the highest heat transfer characteristics.
It does not need a heat exchanger between the tank and the collectors. Typical heat exchangers are 50-60% efficient in transferring heat between one side and the other.  With no exchanger between the tank and collectors, the drain back system transfers 100% of the collector heat to the tank.
It is the most durable.  Glycols deteriorate over time producing acids that eat piping.  Pressurized glycol systems have up to 30% shorter equipment life than drain back systems.
With fewer parts, no exchanger, and no chemicals degradation, drain back systems are as trouble-free as possible. Trouble-free translates into no regular maintenance, just an occasional check up.
Preliminary energy calculations indicate that this system will produce nearly 84 million Btu annually, supplying around 57% of the building's domestic hot water. Remote energy monitoring equipment is in the process of being installed on the system in order to verify production. Being able to accurately predict and measure energy output is becoming an essential element of successful solar thermal deals.
The Murphey School is home to 43 senior citizens who all have a daily need for domestic hot water in association with kitchen activities, bathing, and laundry. Facilities like this are an absolute no-brainer for solar hot water. Expect to see many more projects like this in the near future!
Leave your thoughts and/or questions in the comment section below,
Dr. Ben
PS – For more information on the Murphey School solar hot water system, including video, type 'murphey' in the search box in the upper right-hand corner of this page.