Variable Speed Pumps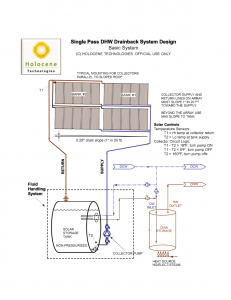 [UPDATE: see the article Variable Speed Pumping, posted on 4/16/2014 for a more detailed discussion on actual commercial systems.]
"Dr. Ben, on the hospital that you were pumping up 5 floors to the 50 collectors; you did talk about the pump and control with out detail. Are you using a variable speed pump control to prevent short cycling and excess velocity? My calculations tell me that after the systems primes, the velocity will exceed the recommended foot per second of the copper pipe and also can void the warranty of the collectors." – Rod Hyatt
Rod, thanks for bringing this up. The question of using variable speed pumps for non-pressurized solar water heating systems gets raised quite often. At the moment, I'm neither for them nor against them based on limited experience. I'm definitely interested in reviewing the data, though!
Let me respond by saying there are several things going on at once in the drainback design I use.
1.  We don't try to do a syphon return.  Some engineers and I tried to do this in the early '80s with no success.  The problem was that as the temperature in the collector loop changed, so did the density of the water, the viscosity and the dissolved gasses.  The result was syphon return when the system was "cold" and "open drop" return as it heated up.  We finally gave up and just sized the return the same as the supply.
2. [UPDATE 1-5-15:   After building five large commercial systems with variable speed pumping, we learned a lot about the capabilities of the VFD devices, which have up to 50 programmable parameters.  See the article above.]
3.  We don't ever overrun the pump/collector flow rate because we set the flow after steady state is achieved, assuming an open drop return (no syphoning).  Think of the return line as being the down side of a water fall.  We regulate the water going over the fall and don't worry about the down side.  We have been using autoflow valves which do the job nicely.  I have a 25 yr old Fluid Handling System in my shop (they bought a new one) that is still in perfect operating condition,  including the collector pump.
I hope this answers your questions. Nice job on your website!
Regards,
Dr. Ben
(More to come…)